--- Member Statistics ---

13,603 members, 28 online
Newest member: jfayard

another newbie request.


Sorry, I have read so much the last 3 days/nights its all starting to blur together. Are these the most up to date seasonal mixes? if not, where can they be found? thanks a bunch
Jahbulon's Basic Seasonal Mix
Jan: S Fund
Feb: S Fund
Mar: C Fund
Apr: C Fund
May: C Fund
Jun: F Fund
Jul: C Fund
Aug: F Fund
Sep: F Fund
Oct: C Fund
Nov: C Fund
Dec: S Fund

timboslices:
Jan: f Fund
Feb: c Fund
Mar: s Fund
Apr: i Fund
May: C Fund
Jun: F Fund
Jul: C Fund
Aug: F Fund
Sep: F Fund
Oct: C Fund
Nov: s Fund
Dec: S Fund



---




where to expect stock market to go under these circumstances


moving my original statement from another post here. It was getting off target from my original post. I think with Trumps tax reform, deregulation, investments in infrastructure that we are going to see the "s" fund/smaller companies benefit the most. If this is correct, wouldn't it make more since to invest in the s fund? Or is this just wishful thinking? Also, what can I expect inflation to do to the stock market? here is a very likely scenario in the not to distant future. I am almost certain this will happen but I don't know what to do about it. Trump is almost certainly going to put a 35% tariff tax on companies over seas to bring products in. The only option companies will have is to move back to the united states, which will be unlikely or increase cost of their product which is more likely to happen. With this, we can expect revenue for the federal government to increase but also see a big spike in inflation which would almost certainly be countered by rising interest rates to try and cool the economy down. If I am wrong on this PLEASE let me know because this wrong thinking will ruin my retirement. lol.. NOW, with that said, my confusion is what do I expect from the stock market? where would my money be better off at?



---




S Fund


Can the S Fund really keep going up??? I keep waiting for it to pull back. Trying to decide when to go for safer grounds. Don't want to be caught flat on my feet!



---




newbie question on Member Outlook, Data Call and History


newbie question on Member Outlook, Data Call and History
Hi folks,

Please see this page on the website http://tspcenter.com/dataCall.php
The headers of the seven columns are:
Week Of % Bulls % Bears B/B Spread B/B Ratio Best Fund(s) Worst Fund(s)

My QUESTION is on the intended meaning of the LAST TWO columns on the right, please.
You see, I found this expanded chart of data by following the link under the Member Weekly Market Outlook at this page http://tspcenter.com/index.php and labeled as "History."

My confusion arises from the change in labeling that the website applies to this data (on the last two columns) when transitioning from the snapshot/thumbnail or current conditions to the historical archive page. The terminology appears to change from "Preferred Fund" & "Shunned Fund" into "Best Fund(s)" & "Worst Fund(s)."

Now there are many ways to interpret the meaning and usage of common English words. However, none of these terms appears defined here, at least so far as I can see. One would reasonably expect the link to "History" from a snapshot would simply expand the very same data, yet more of it and presented into a longer timeframe.

So now with this change of terminology, I am confused!

Here are some possible interpretations for/of the terms as used herein. "Preferred" might mean either the fund with largest average members' allocation on Sunday, as a snapshot. [BTW just the Fantasy folks or some different data source??]. Or instead, "Preferred" might mean the fund(s) experiencing the largest percentage inflows via IFT over that respective week, and so measured on Saturday, the week-end. Two different yet related ways to measure and report fund allocation/preference.

On the History page there is "Best Fund." Is this the members' favorite in allocation, as paragraph above OR is this the Best Performing fund in terms of price performance (in percentage, of course)?? -- Clearly, the former is based upon a snapshot sometime within that week, while the latter is determined by the market close on the respective Friday.

Similar questions may be asked for the "Shunned" and "Worst" pairing. But hopefully, my politely asked question is well stated and clearly conveyed already.

Thank you very much for a truly wonderful website!
Stephen



---
newbie here and confused - tsp allocations
ok. ill try to keep this short as possible. I don't want to bore the mighty wise people that I hope read this and give advice. I'm 42years old. been in the tsp system for 6.5 years. I hope to retire at 62 giving me only 26 - 27 years of service. I'm only at 5% contributions which until TODAY was all going to "G" fund. I have right around 20k measly dollars in it. My annual income is only 55k so its been hard for me to get up up past 5%. virtually no raises since started due to pay freezes. Hopefully that will change soon. Most people I work with are retiring soon with 30 years of service and seem perfectly content with 100k - 150k in their tsp
...Call me greedy but I want more, lots more. But this is where the confusion sets in. Since I have 20 years of service left, I'm willing to go all in. GO BIG OR GO BROKE ATTITUDE!..I'm trying not to focus much on the thought about stocks being at record highs and really have nowhere else to go but down but still willing to go all in. I HAVE NONE, ZERO, ZILTCH EXPERIENCE with stocks, bonds and investments at all. But I do know that the "G" fund is not going to do it. What are your thoughts on these 2 options I have came up with: either straight into the L2050 fund because its little more aggressive then the L2040 or something along these lines: (G-6%, F-2%, C-55%, S-37%, I-0%). I cant bring myself to invest in the "I" fund because 1. I'm doing good to grasp all the American terminology and how this stock market works 2. don't like what I been seeing from morgan Stanley capital international. This just seems a little to risky for me as I am more confused about that particular fund then I am the rest. i understand there is no set formula, suggestions, advice and no magic bullet for everyone as everyone situation is different. But if you where 42, had 20 more years to go and only have $20k to start, what would you do? thanks in advance.



---




Effects of Italian Referendum


Italy voted to reject economic reform tonight, and the prime minister resigned. This adds to the EU's current problems.

Does anyone have thoughts on whether this will cause a drop in stocks in general and the I Fund in particular? If so, how long before the recovery bounce back?



---




TSP Advantage - Short Term Analysis


The uptrend in the C-Fund which began after the Presidential election reversed over the past 2 trading days based on the 15 minute chart below.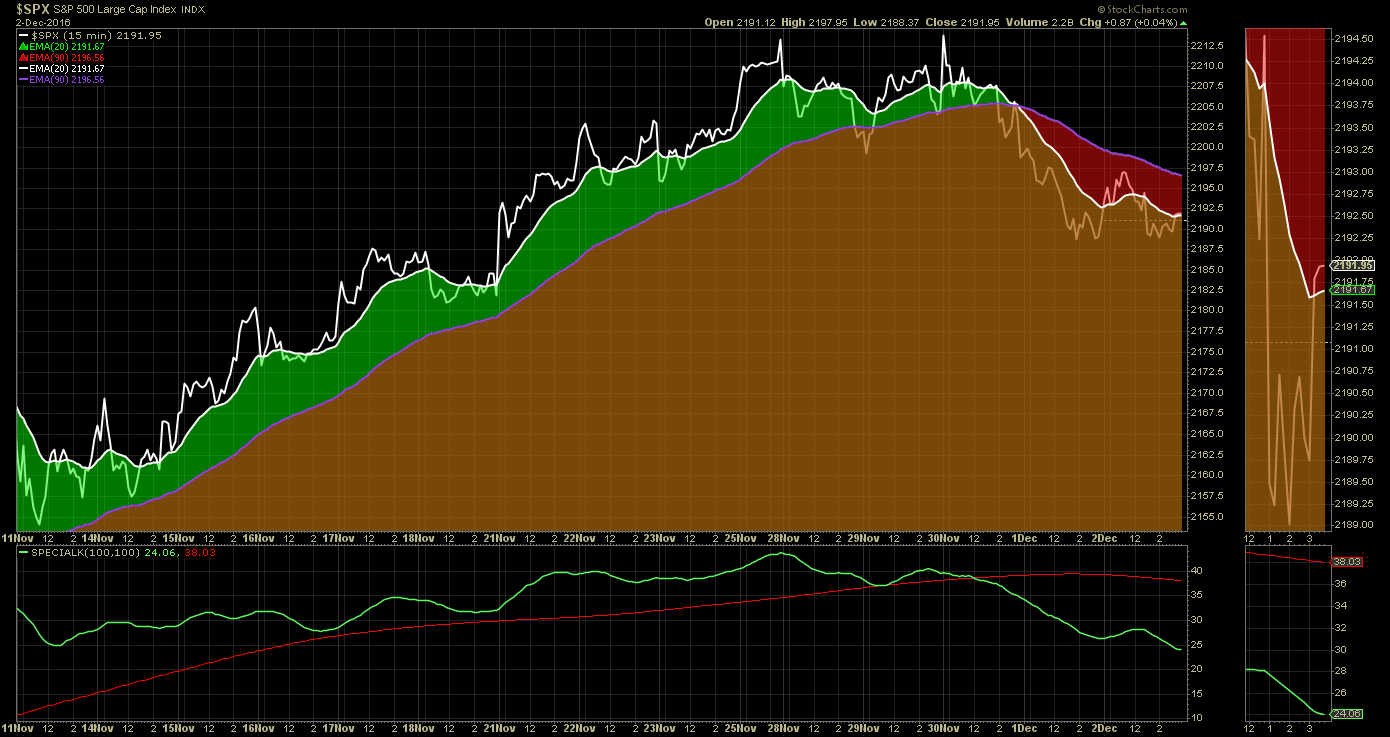 http://tspadvantage.org/wp-content/uploads/2016/12/Short-C.png

The uptrend in the S-Fund reversed 4 trading days ago.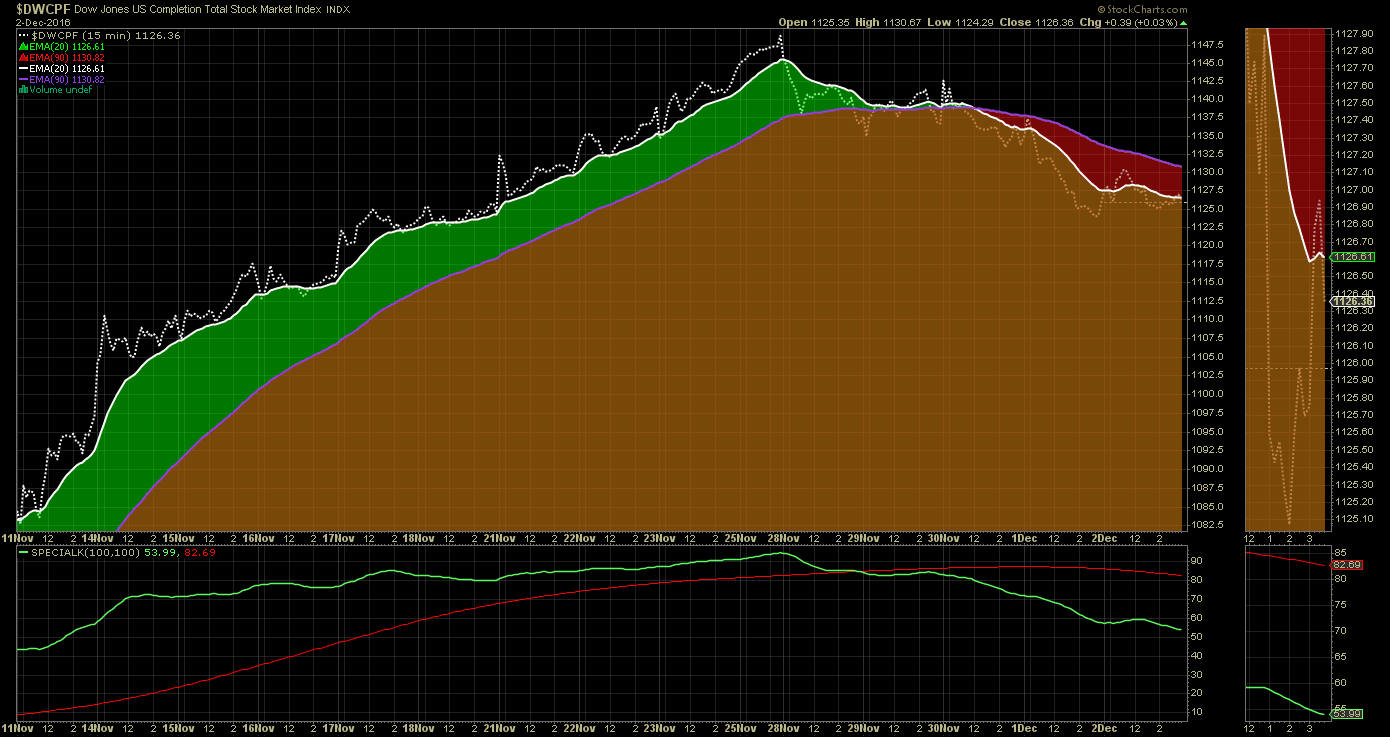 http://tspadvantage.org/wp-content/uploads/2016/12/Short-S.png

The I-Fund is too volatile to discern a usable short term trend at this time.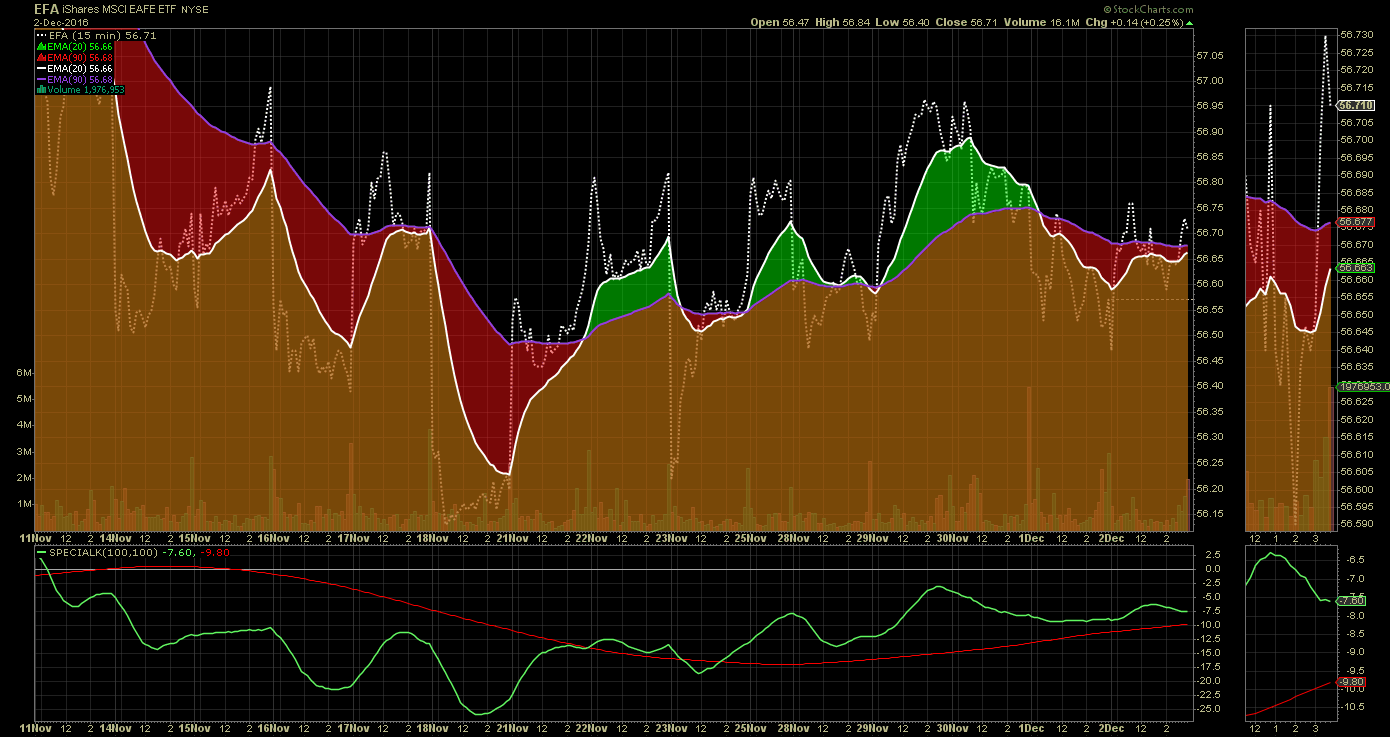 http://tspadvantage.org/wp-content/uploads/2016/12/Short-I.png

The F-Fund could be in the early stages of a new uptrend but it's a bit too early to tell. The FOMC meeting later this week should set a course going forward.


http://tspadvantage.org/wp-content/uploads/2016/12/Short-F.png

For longer view charts go to: http://www.tspadvantage.org



---
Find us on Facebook!
Professional TSP Advisory Returns
** Updated monthly
What is this?
** Registered Investment Advisor
Join FantasyTSP™
Track allocation performance
Talk with other TSP investors
Learn new investment strategies
Compete for Leader Board listing
Monitor TSP share prices
and much more...
Register Free
TSP Share Prices for Dec 7, 2016
| | | | | |
| --- | --- | --- | --- | --- |
| | | Close | Day | YTD |
| | G Fund | $15.1631 | +0.01% | +1.66% |
| | F Fund | $17.4497 | +0.28% | +2.92% |
| | C Fund | $30.8695 | +1.33% | +12.00% |
| | S Fund | $41.3463 | +0.96% | +17.34% |
| | I Fund | $24.5490 | +1.75% | +1.88% |
| | L 2050 | $16.3323 | +1.18% | +8.69% |
| | L 2040 | $28.6753 | +1.05% | +7.92% |
| | L 2030 | $26.8318 | +0.90% | +7.06% |
| | L 2020 | $24.4627 | +0.62% | +5.40% |
| | L Income | $18.3904 | +0.30% | +3.47% |